Surgery Tips
Most babies and children with hip dysplasia do not need surgery, but it is necessary in some cases. The doctor or hospital staff will give you instructions about how to prepare your child for surgery. For example, your child might not be able to eat prior to the surgery. Many doctors consider breast milk to be a clear liquid, which is allowed up to four hours before surgery even if the child cannot eat food. Find out if your child can be scheduled for surgery early in the day: this can make it easier to manage withholding food.
Ask your child's doctor about the cast materials (fiberglass or plaster) so that you know what to expect.
Ask if it is possible for you to speak with another parent whose child has undergone similar surgery for hip dysplasia.
Bring a combination of small diapers and large diapers that can fit over the cast. See "What to Bring to the Hospital."
Ask about a car seat loaner program. Your child probably will not fit in the car seat that you have been using. See "Riding in the Car-Planning the Trip Home."
Coping with Surgical Treatment
Lots of people say, "It's not a big deal," or "she won't remember it". But mothers remember everything. I was haunted by the memory of my daughter being carried away by the nurses when she went in for surgery. I felt like a terrible mother because my daughter smiled and went willingly, trusting that I would not put her in harm's way. It broke my heart to know that she would wake up in the spica…

It was hard to keep in the front of my heart that I was doing this to care for and protect my daughter. To know in your head and know in your heart are two different things…

Mine went in at nine months old and she is three [years] now. When I see her running around the playground with no limp or hindrance, I am glad for what happened. When she goes in for checkups, and I see fourteen year old girls who walk with difficulty down the hall to see the orthopedic specialist, I am thankful for the spica. But it has taken time for me to be grateful in my heart and not just in the logical part of my head.

*From the Hip-baby Discussion Group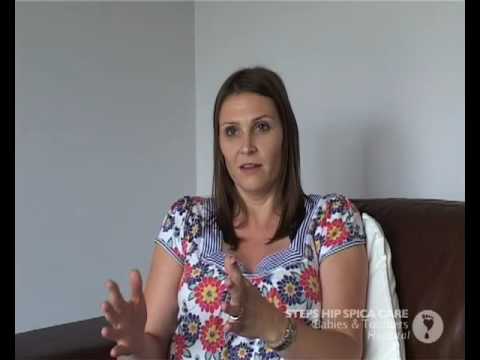 Even though you know it is coming, the sight of your child going into surgery, and the first time you see your child in a cast, can be very hard. Do what you can to mentally prepare yourself, and get as much support as you can from family and friends.
Talking to an Older Child
It is best to tell an older child (age two and up) that she is going to have surgery. Use simple language that the child can understand. One mother told her daughter that she had "a hip boo boo" that needed to be fixed. Explain that the surgery is what you want to do and that you will be near her in the hospital.
Your child might like to make a cast for a doll or stuffed bear at home before she goes to the hospital. Some hospitals have programs where the child can visit to get used to the setting before the day of surgery. Children are shown the hospital gown, gas mask, and other equipment. If your child is much older (six years and up), take some time to explain the surgery to her, or ask the doctor to explain it to her while you are present.
Taking Time Off
In the United States, depending on the size of the company where you work, the Family Medical Leave Act (FMLA) might allow you to take up to 12 weeks unpaid leave per year to care for a family member. This is the same act that covers maternity leave. This can be helpful if a child needs surgery. If your child is already attending daycare, he or she can continue during treatment after recovering from surgery.
What to Bring to the Hospital
Put the most important items in the diaper bag. If your child will be staying overnight, pack a second larger bag. Leave the larger bag in the car until after the surgery. When you have a room, get it out of the car, or ask someone to bring it to you. The following sections offer suggestions about what to bring when you go to the hospital.
In the Diaper Bag
These items should fit into most diaper bags:
Your child's favorite blanket or stuffed animal.
Extra pacifiers if your child uses them.
Snacks such as crackers and juice boxes or a sippy cup for your child.
Diapering supplies, regular size to use before surgery.
Diapering supplies to use with the cast: small (size 1) diapers to go inside the cast, plus large (size 5) diapers to go outside the cast.  Some parents also use incontinence pads (Depends or Poise) inside the cast.
In Your Purse or Wallet
These items are helpful in getting through the hospital paperwork and passing the time while your child is in surgery.
Your photo ID.
A folder with insurance cards, referrals, and medical information.
A cellular (mobile) phone or change for a pay phone, and a list of phone numbers of friends and family to call after the surgery.
Snacks or change for vending machines.
A book, magazine, or deck of cards.
If Your Child Will Stay Overnight
If your child is in traction at the hospital, or needs surgery that will require him to stay overnight, bring these items to help ease the anxiety and stress of being away from home for your child:
Clothing – Bring socks, a shirt, pajama top, or nightgown one size larger to go over a cast, and shoes if your child wears them.
New books or toys for child. If you have a portable DVD player, bring it along with some favorite movies.
If you are staying overnight, bring comfortable clothes. Sweats work well for nighttime. Also bring a towel, slippers, a book, magazine, or laptop computer, and snacks. If you are breastfeeding, then consider bringing a pump.
If you want to take pictures, bring your camera.
Anesthesia
Before surgery, a child is given anesthesia for pain relief and to put her to sleep. Your child could be given either gas or an IV. He might also have an epidural. A pediatric anesthesiologist usually handles pain relief when a child has surgery. These doctors have special training to work with babies and children. Some hospitals allow a parent to take the child to the operating room.
If an older child is very scared about the surgery, he could be given a "cocktail" such as liquid diazepam (Valium) to calm him down first. For a longer procedure, children two years of age or older might also be given some medicine to prevent nausea and vomiting during recovery. Usually these medicines are not needed for younger babies. Young babies are less likely to be scared or to have nausea or vomiting after surgery. If your child is under two, and has had nausea or vomiting after anesthesia in the past, tell the doctor, and ask for medicine to help keep it from happening again.
Note: Sometimes the cocktail and antinausea medicines are not given before very short procedures, such as [Spica] cast changes. This is because the effects can last longer then the procedure. If the child is still groggy from the "cocktail," it can complicate their recovery.
If you are able to meet the pediatric anesthesiologist before surgery, ask the questions listed below:
How long have you practiced?
How will you put my child to sleep (gas, or a needle in the arm with medicine)?
How long will it take for the drug to be out of my child's system? Will my child be cranky? Will he recognize me?
Can my child take a favorite toy to the operating room for comfort?
What kind of side effects can we expect?
Will you be present for the entire procedure, or will someone else take over once the initial anesthesia is given?
Riding in the Car – Planning the Trip Home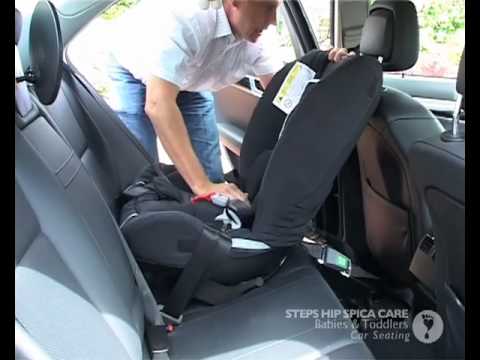 In addition to planning for your trip to the hospital and preparing to care for a child in a cast, you also will need a car seat that your child can fit into while wearing the cast. This can be hard to plan for, because the doctor might not know exactly what position the child's legs will be in until surgery. Each cast must fit the child individually, with the ideal position for each hip. One child's cast can have the legs positioned much wider apart than another. Many hospitals can provide loaner or rental car seats, as they are often much more expensive than regular car seats, and can cost $300 to $500.
*Information is from The Parents' Guide to Hip Dysplasia by Betsy Miller
---
Back to Treatment Tips for Parents